2023-05-24
Sandberg Development makes its first investment outside Sweden – becomes part-owner in Italian dishwasher manufacturer Silanos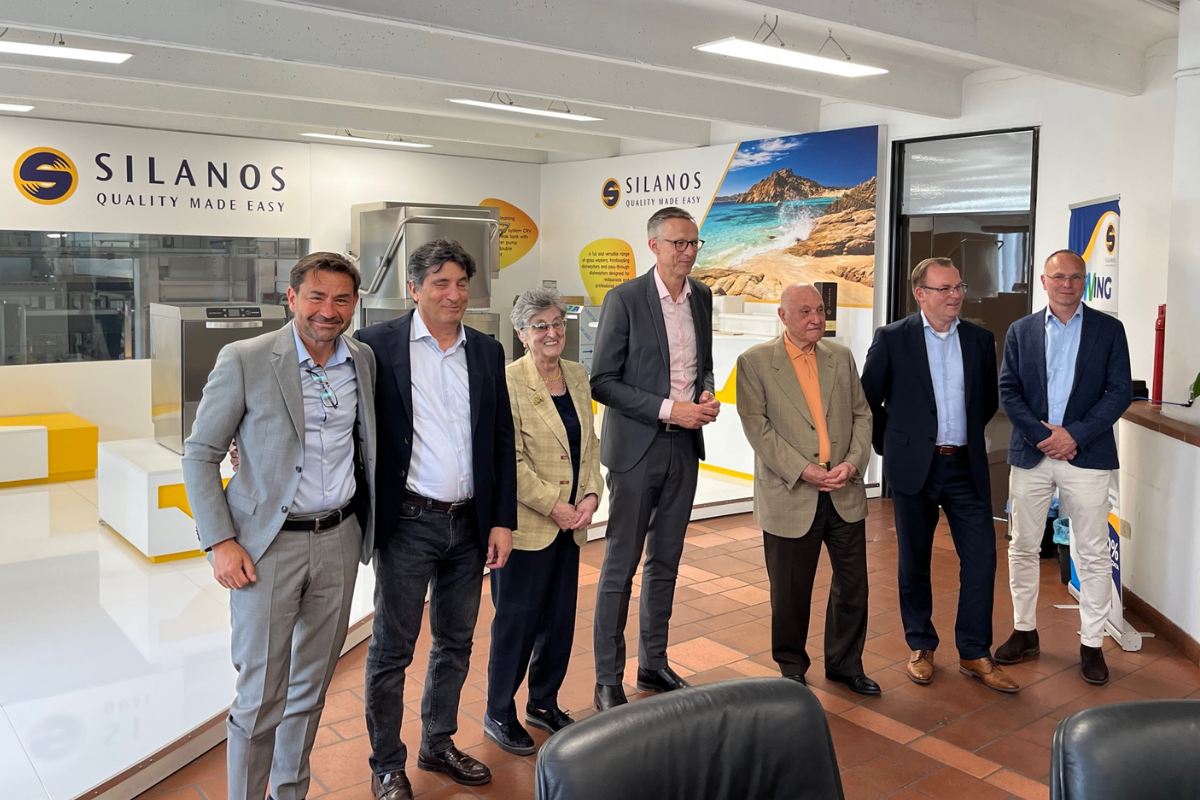 The family-owned, Malmö-based investment company Sandberg Development has become a new owner of the family-owned, Italian company Silanos, a market-leading European dishwasher manufacturer. The investment in Silanos marks Sandberg Development's first investment outside Sweden. Sandberg Development's ownership stake in Silanos amounts to 25%.
Sandberg Development aims to contribute to growth and social value through active ownership of innovation-driven companies. Water technology is one of the Group's three focus areas, and Sandberg Development has now decided to step outside Sweden for the first time by becoming a part-owner of the Italian company Silanos. By combining the strengths of the wholly owned subsidiary Granuldisk and Silanos within the areas of manufacturing, logistics, customer insight, organisational structure and digitalisation, the aim is to create a complete portfolio of premium products for the dishwashing rooms of the future.
"We are pleased to be expanding our partnership with our established industrial partner Silanos. Through this investment, we will be able to expand our offering to the dishwasher market and provide more efficient and sustainable solutions – a key factor when there is a water supply shortage," says Stefan Persson, President and CEO of Sandberg Development.
Family-owned Silanos has been a leader in Europe since 1964, primarily within compact dishwashers. All manufacturing takes place in Milan, where production is highly robotised. Its products mainly include water-based compact dishwashers for the private sector. Silanos currently has just over 100 employees and sales of approximately SEK 300 M.
Since 2019, Granuldisk and Silanos have been engaged in an innovative development partnership that has resulted in three products. Now the aim is to create a complete product portfolio of both small and large dishwashers for the public and private sectors.
"This is a logical next step for us. To remain at the forefront, we must continually adapt to the market's needs, which we can now do together with a strong partner like Sandberg Development. Our close and innovative partnership over the past few years has demonstrated the possibilities that exist. I see Sandberg Development's investment as the start of a clear shift in the industry and look forward to deepening and developing the synergies between our companies," says Marco Silanos, CEO and second-generation owner of Silanos.
"This partnership is based on an exciting dynamic where both parties contribute to and advance development. Silanos is very strong in manufacturing, logistics and the development of accessories, with a solid customer base in southern Europe. We have a unique technology with a strong brand and a new organisation that is ready for growth and expansion with a broader and stronger product offering, says Mikael Samuelsson, CEO of Granuldisk.

For more information, contact:
Stefan Persson
President/CEO Sandberg Development
sp@sbdev.com
Marco Silanos
CEO Silanos
marcos@silanos.it
Mikael Samuelsson
CEO Granuldisk AB
Mikael.samulesson@granuldisk.com
About Sandberg Development
Sandberg Development is a family-owned investment company that contributes to growth and social value through active ownership of innovation-driven companies – focusing on water technology, quality of life and security. Sandberg Development's holdings comprise the subsidiaries Aimpoint, GAIM, Granuldisk, RESCUE Intellitech and SWATAB, a minority ownership of Drupps, Clean Oil Technology (publ), Orbital and ISEC Monitoring Systems as well as the listed company Camurus. Sales for the Group in 2022 amounted to SEK 1.7 billion. For more information, visit: www.sandbergdevelopment.com
About Silanos
Silanos was founded in 1964 and quickly established a position as a market leader in Europe within the professional dishwasher industry. Nearly 60 years later, the company is still growing thanks to its experience and ability to renew itself. Silanos manufactures more than 30,000 dishwashers and dishwashing accessories annually and offers a broad product range, including everything from compact glass dishwashers to the most powerful dishwashers for airlines capable of washing 9,000 plates per hour. Production takes place exclusively in Pioltello in the Province of Milan in Italy.